The Kletterwald Winterberg
An adventure playground in lofty heights
Are you free from giddiness? Then it's off to the treetops! Action and adventure await you here. At Kletterwald Winterberg you can shimmy through the various climbing courses, balance over curious bridges and whiz from tree to tree on ropeways. You can try out for yourself what you are capable of. Five different climbing routes await you. Each one is a bit more challenging and higher than the previous one. Once you have completed a course, it's back to earth for you. Take a short breather and head off to the next climbing adventure.
Climbing fun for all ages
even for the "very little ones
Children's course at a height of 1 m for children from 0-7 years of age
Courses 1-3 possible from 8 years
Course 4 possible from 10 years (accompanied by an adult)
Course 5 possible from 12 years
Children 8-10 years old climb accompanied by an adult (1 adult per 2 children required).
Children from the age of 11 are allowed to climb on their own
Attention: We ask you, if possible, not to bring bags and backpacks! You should also empty your pockets as much as possible. For example, leave your valuables in the car and take only the car key with you when you start climbing.
Suitable for beginners
Registration only required for groups of 10 or more
In order to learn how to move safely through the high ropes course, you will first receive instruction from our professionals. Under instruction you will run through our training course at a height of one metre. As soon as you have familiarised yourself with the safety system and the rules, you are ready to go.
2+5
With us at Kletterwald Winterberg are waiting for you:
2 training courses - height approx. 1 m
Here you will familiarize yourself with the belay system and learn how to move through our climbing park. You have to overcome these elements:
Conductor bridge
Ropeway 5,70 m
Balancing beam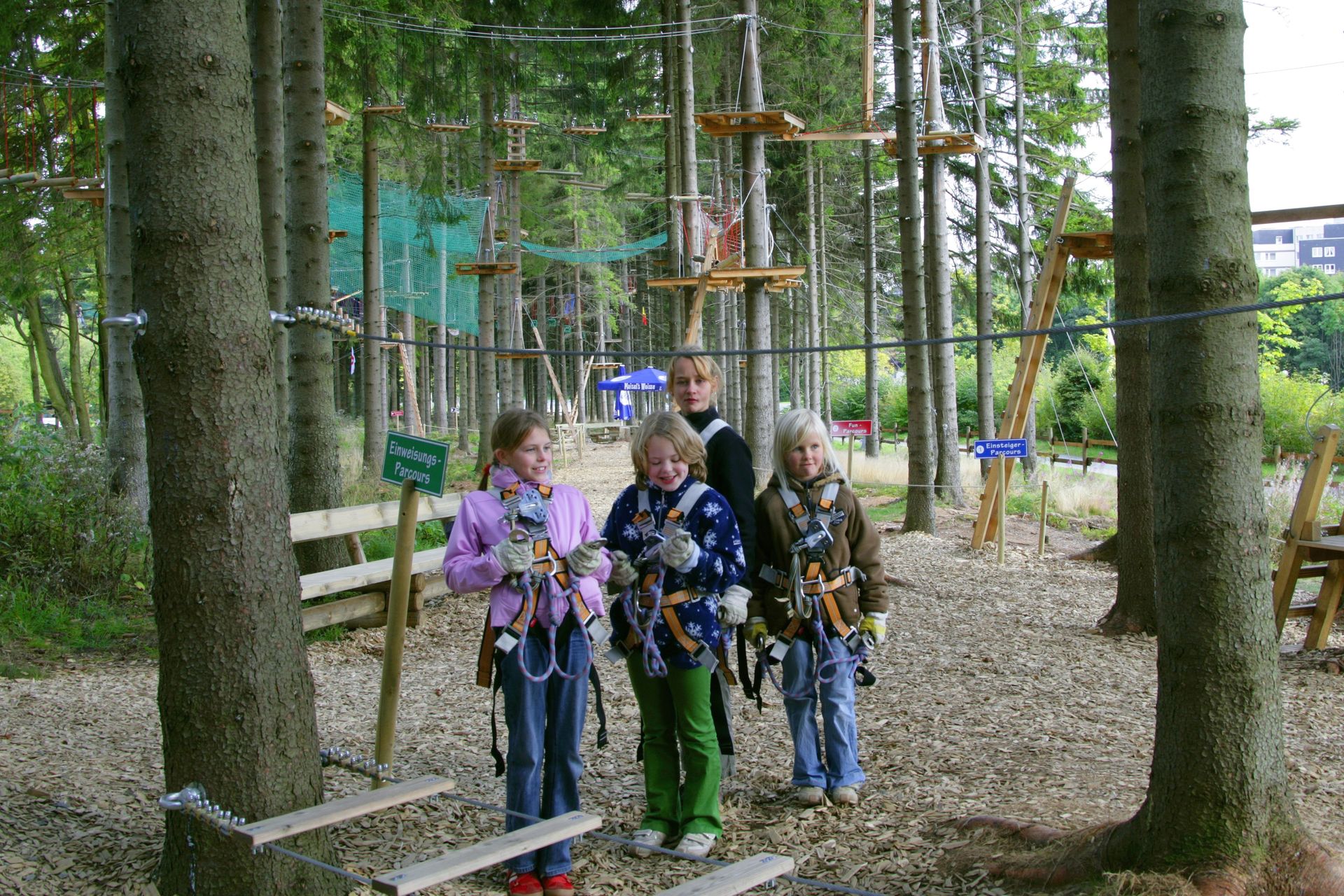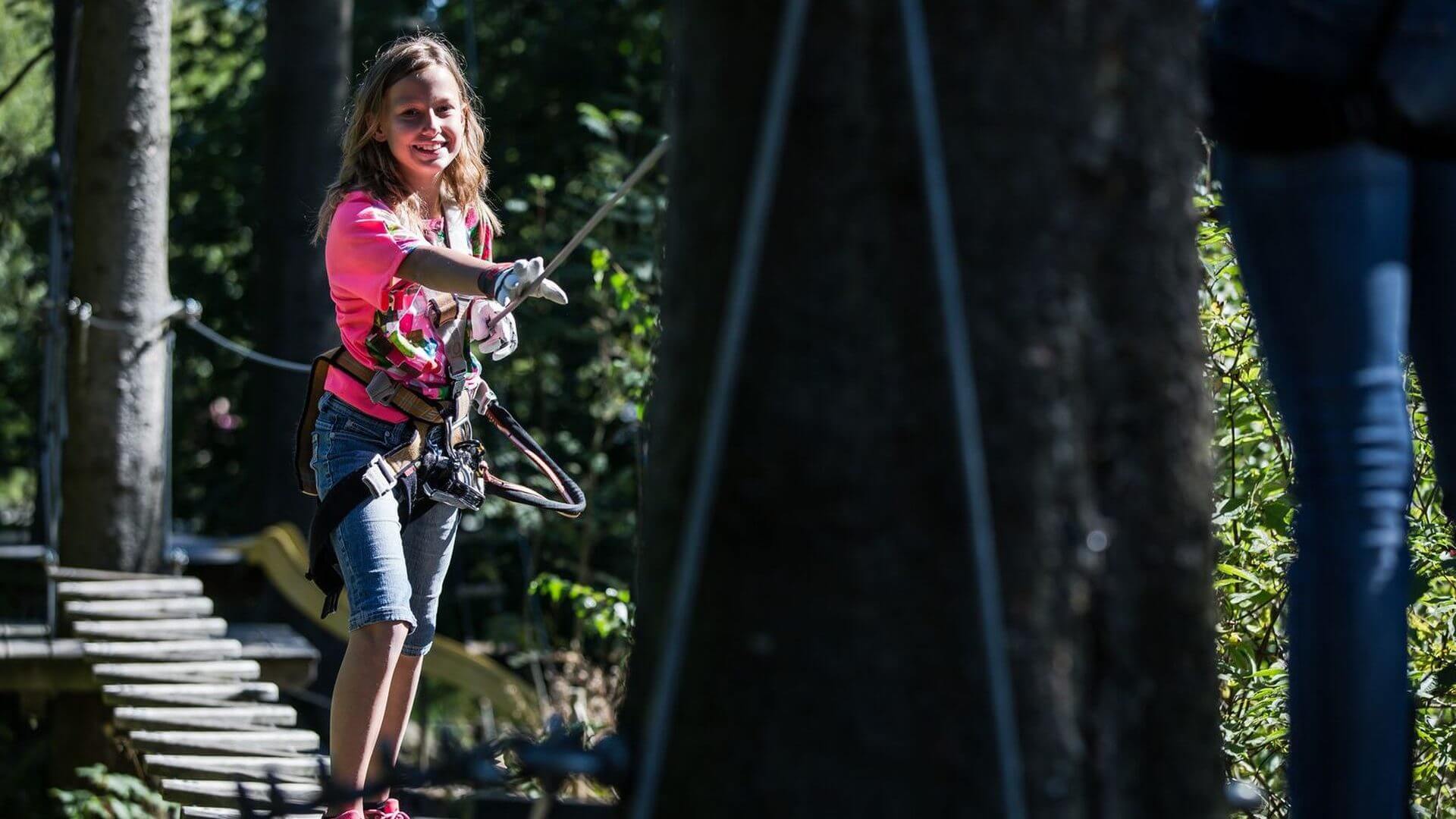 No. 1 Beginner course - height between approx. 3-5 m
Here you can prove your courage and show whether you are a real climbing ace. Up the ladder and off you go over the various hurdles:
Balancing beam
Battering ram
Ropeway 11,20 m
Nepal Bridge
Logs
Suspension bridge
mid-height tread net
Zigzag Bridge
Tunnel
Vehicle
Small rams
No. 2 Fun course - height between approx. 3-7 m
Well done! The beginner's course has been completed. But the next challenge is waiting for you. Let's see how you master these tests:
Checkerboard Bridge
Climbing wall
Sledge Bridge
Combination element
Scout leaders to the top of the climbing forest
Nepal Bridge
Cable car
Rocker
Cable car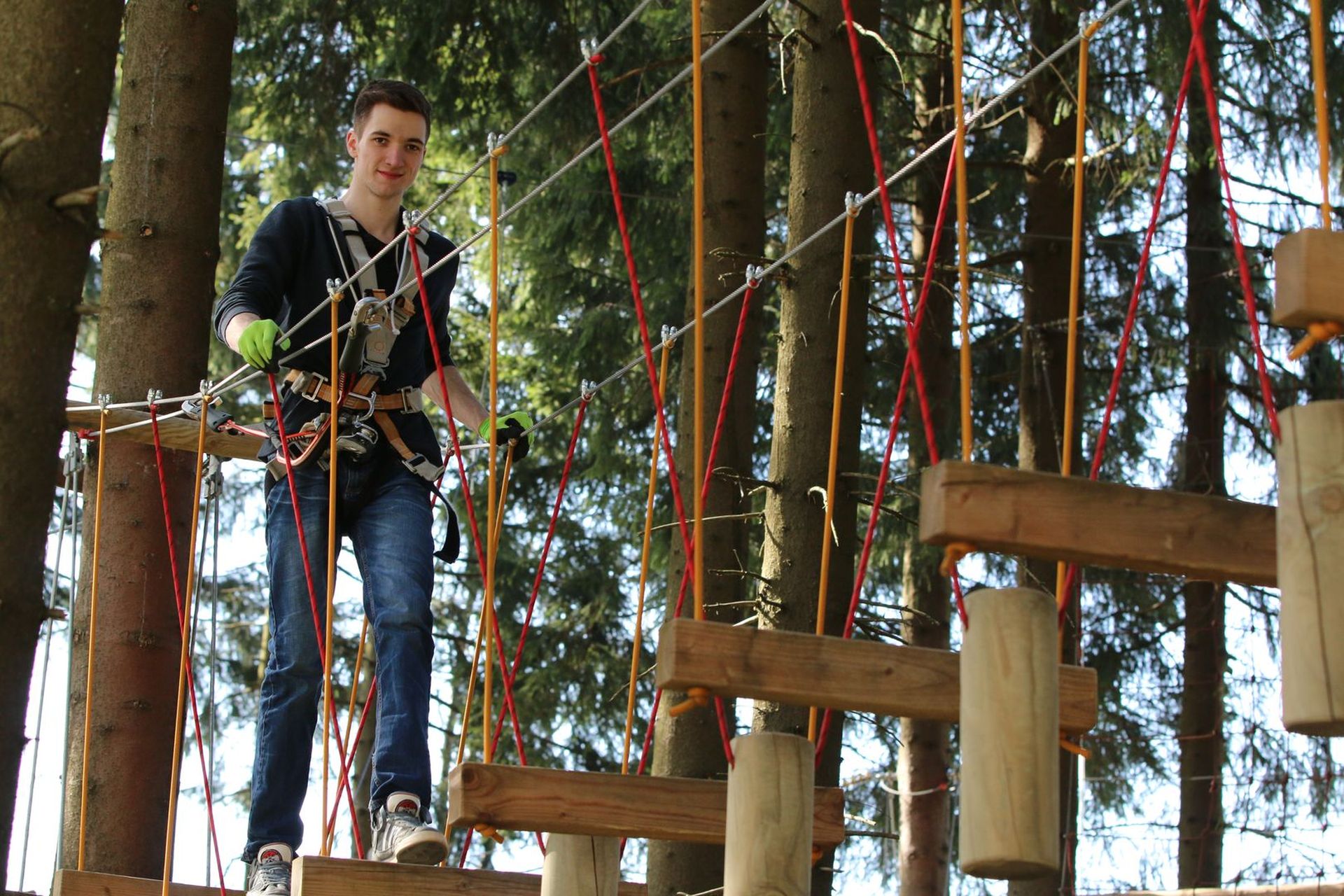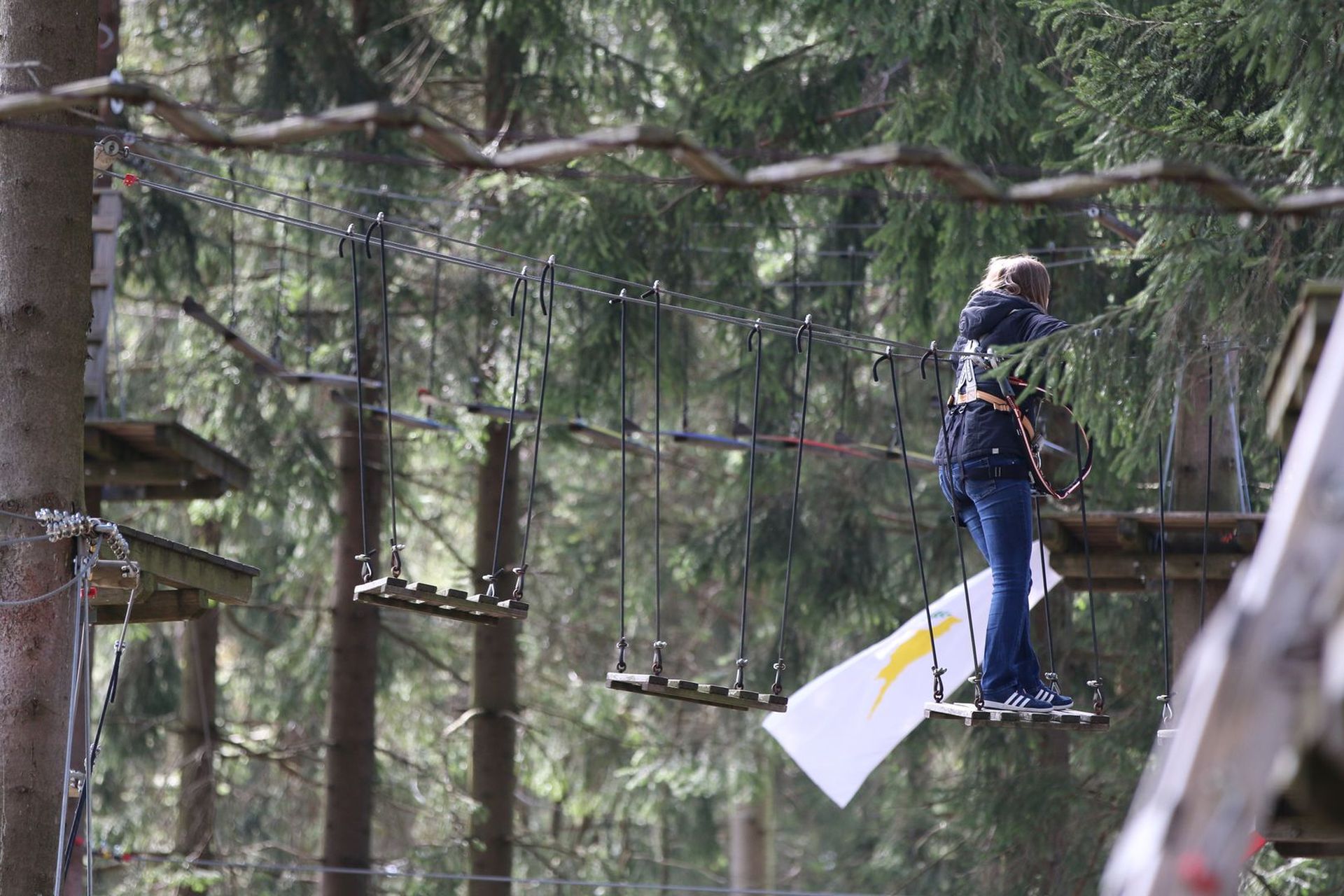 No. 3 Adventure course - height between approx. 3-9 m
Now you're getting the hang of it. Let's move on! The adventure course awaits you:
Balancing rope with handrail
Door bridge
Small platform
Palisade Labyrinth
Runner
Ski bridge
Ropeway 38,80 m
Log diagonal
Tyre bridge
short loops
Swing
High running net
No. 4 Adventure course - height between approx. 6-12 m
From the age of 10 accompanied by an adult
Don't look down! This is the highest climbing route in our climbing park. Four ropeways are waiting for you here:
Zigzag logs
Teller Bridge
long loops
Ropeway 15 m
long wooden bridge
V-bridge
Chimes
FIRE Bridge
Ropeway 10 m
Cola boxes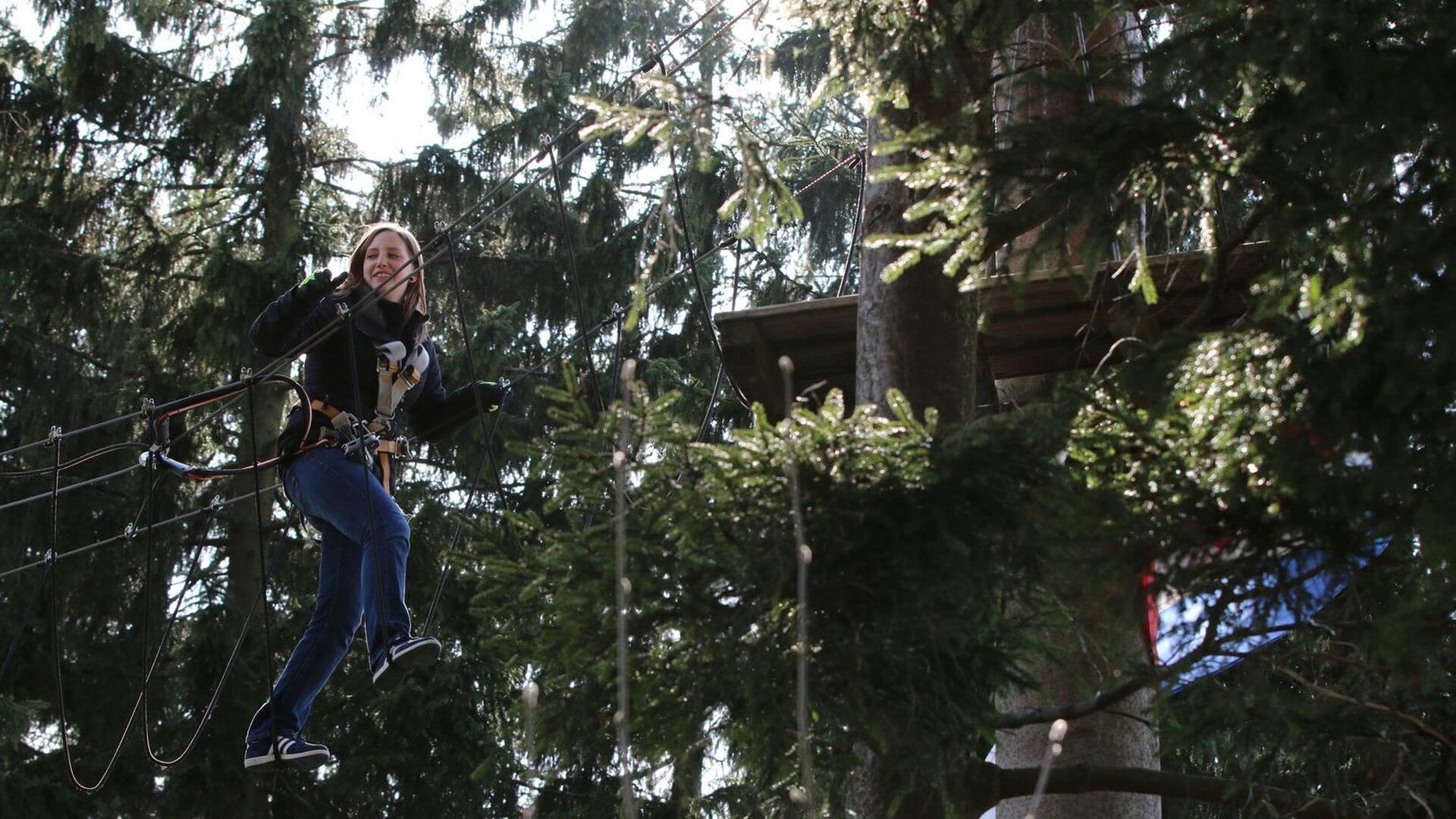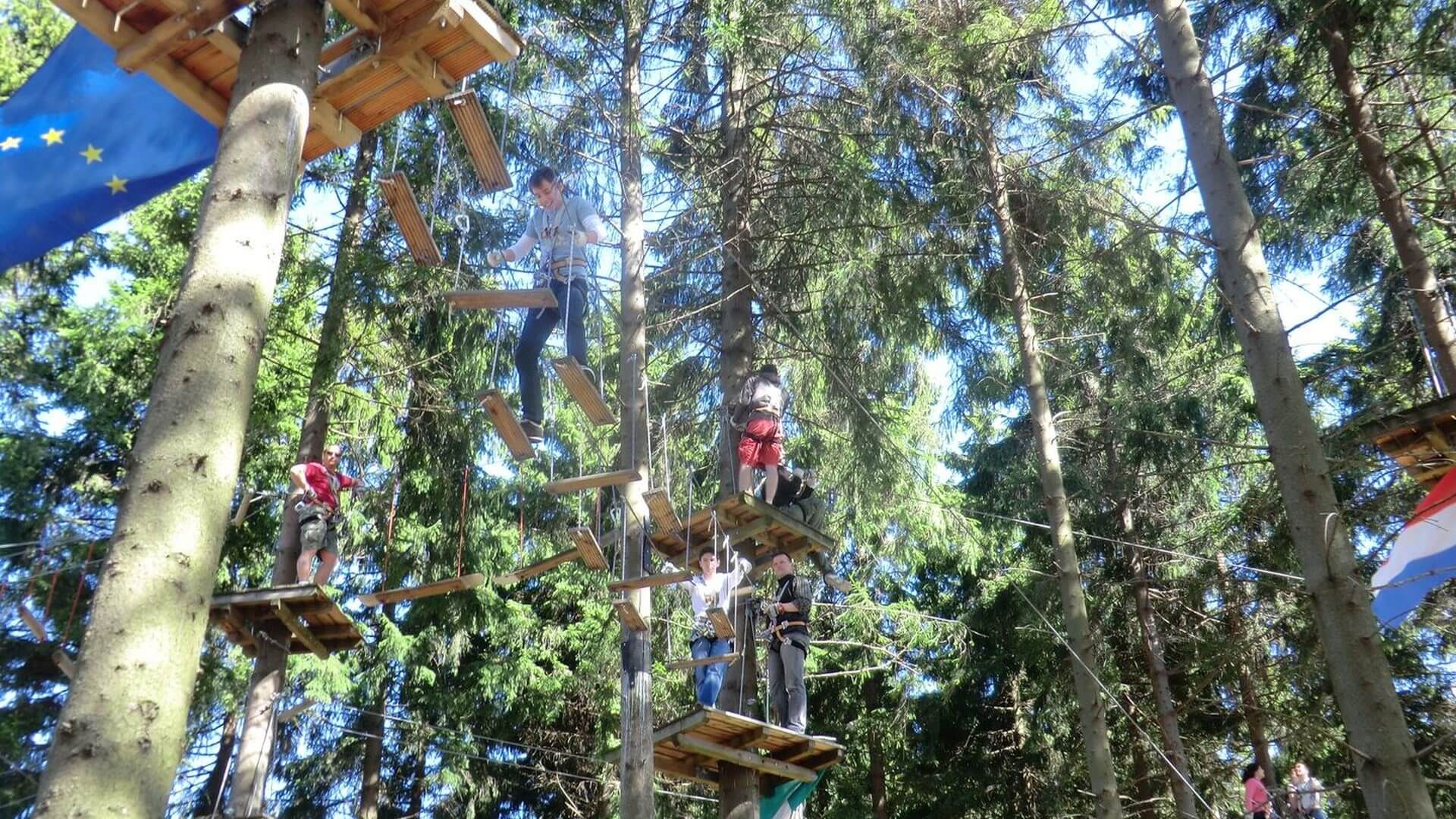 No. 5 Sport course - height between approx. 5-11 m
This course is not for beginners. Sporty it goes over a climbing wall up to 11 meters high through the treetops:
Face pegs
Rocker
Beer Benches
Trapeze
Summer toboggan
Logs crosswise
Snowboards
Ropeway 10 m
ViVa rio bridge
Slide
Rapunzel
Wood dance
Ram loops
Ropeway 40.00 m
Safety in the Kletterwald
The Erlebnisberg Kappe stands as an experienced outdoor organizer for the highest technical safety and quality. The Kletterwald Erlebnisberg Kappe is equipped with a continuous belay system, the so-called LockDClips. Here, the two carabiners are connected with a Bowden cable, which means that one carabiner can only be opened when the other is clipped into the belay steel cable. In addition, all our team members are trained according to IAPA standards and the latest safety guidelines. Nevertheless, climbing parks generally harbor a risk of accident and injury that cannot be completely ruled out, even with the careful supervision of our experienced teammates. This residual risk is borne by the participants themselves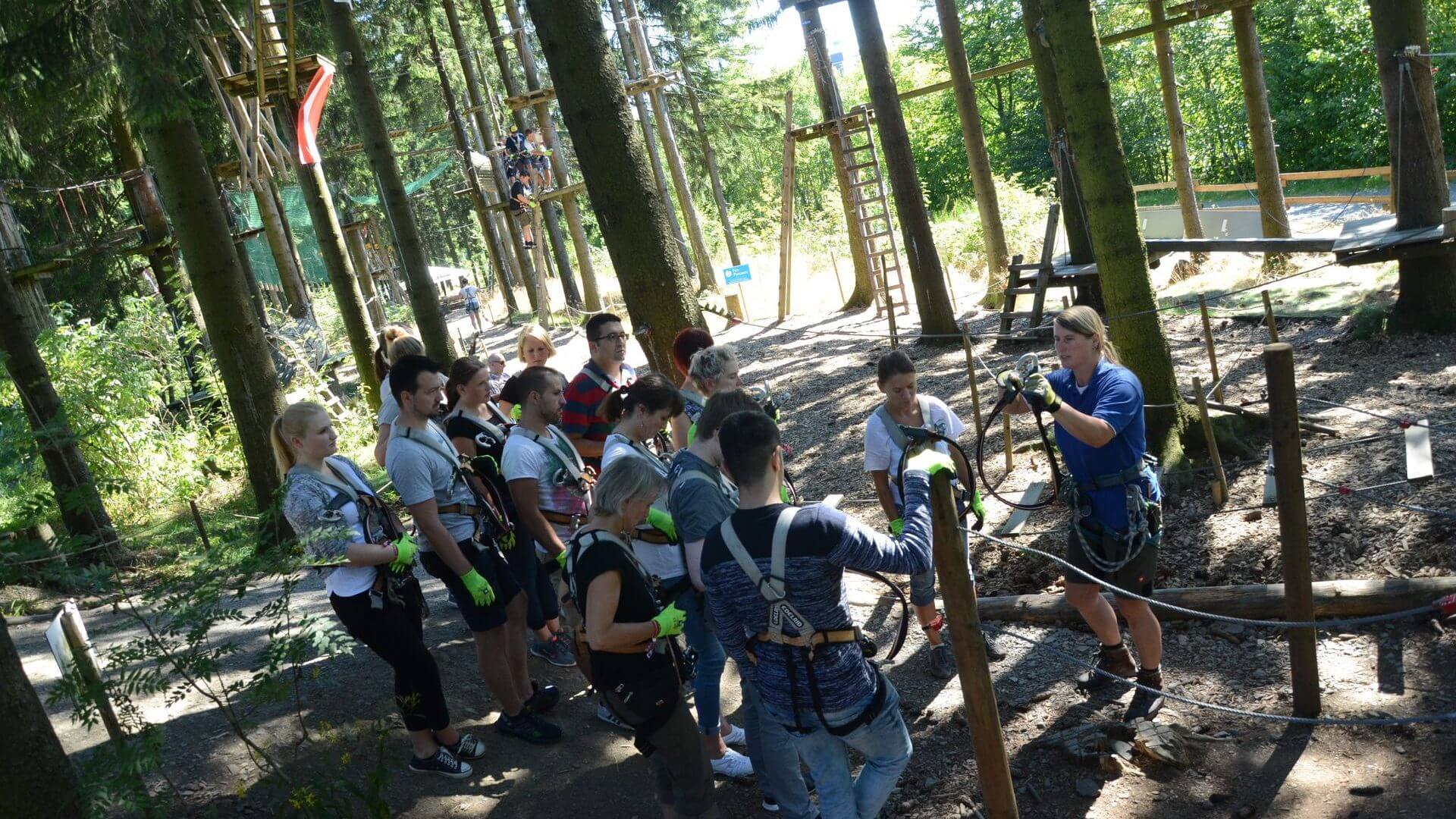 Too small for the Kletterwald? Not with us!
So that the minis don't have to watch the climbing, but can also get active themselves, there is a separate children's course. It is designed to be child-friendly, easy to master and a real adventure. The nine stations, which are about one metre high, reach just up to the hips of adults, but are just right for children up to the age of seven.
Many great fun elements provide action. Kappi, the squirrel, is a wooden figure to climb over and balance on. A large wild boar serves as a climbing wall. Tunnels tempt visitors to crawl, mushrooms and snakes invite them to run over them. A spider's web and slide are the final touches. The little adventurers must be accompanied by a non-climbing adult when using the children's course.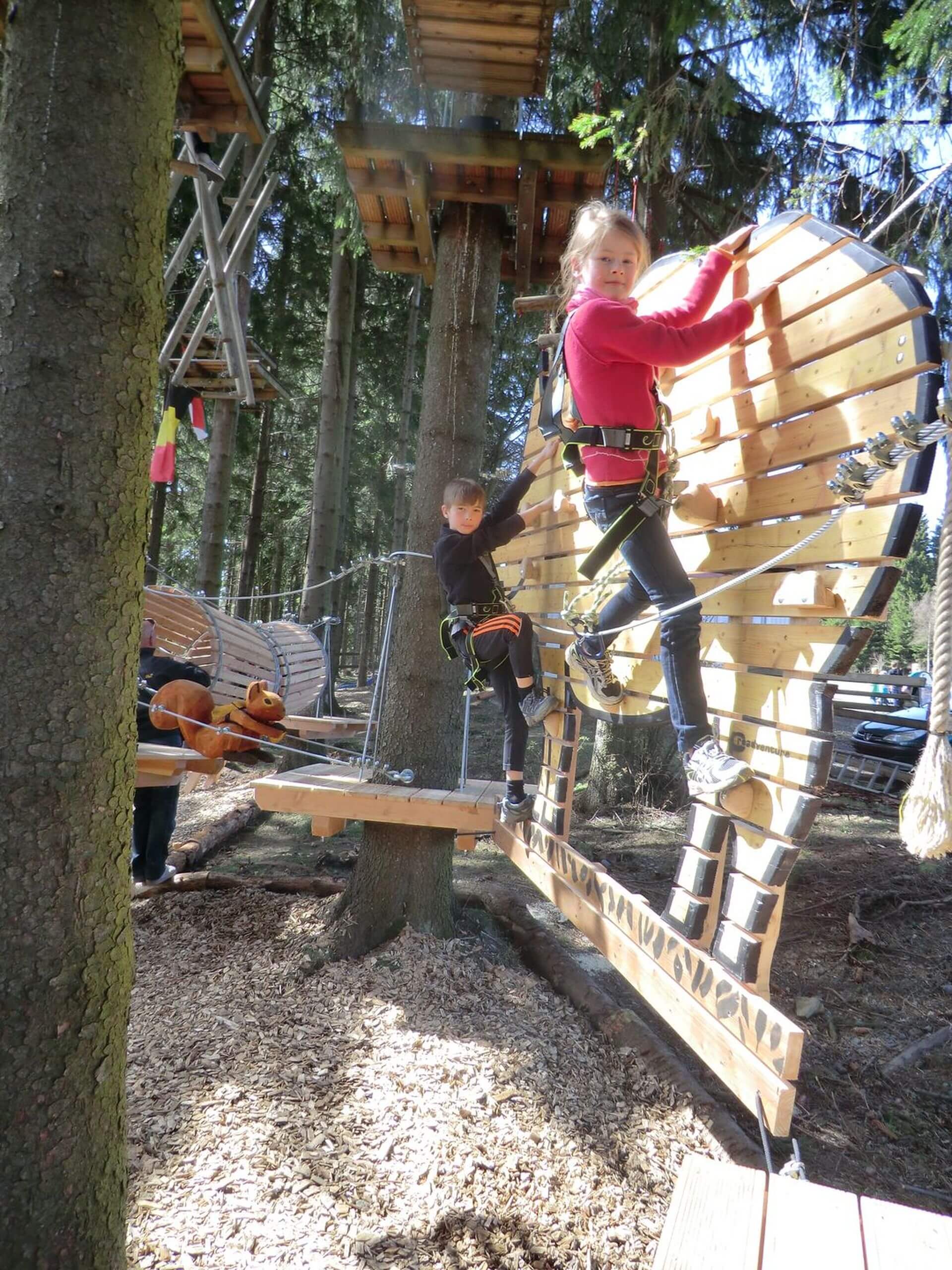 | | Children 0 to 7 years | Children up to 15 years* | Adults from 16 years |
| --- | --- | --- | --- |
| Single ticket | 9,50 € Children's course | 20,50 € | 24,50 € |
| Family tickets | - | 19,00 € | 23,50 € |
Der Kletterwald ist in der Winterpause und ab Frühjahr 2024 wieder für euch geöffnet.
*Up to and including 10 years only in the company of an adult. 1 adult may supervise max. 2 children. The duration of stay is limited to 3 hours (incl. instruction).
Reservations only necessary from 10 people!